The new product sheets have arrived fresh off the printer. There are new sheets for all four of Stoett's core products: StowAway™ for doors, PanoramaLite™ for wide horizontal openings, Panorama™ for extra wide horizontal openings, and the Panorama™ Clear Vinyl product for extra wide openings without the breeze. Yes, they are succinct, visually inviting, and ready for architects, homeowners, and contractors' use.
We hope these are useful for our dealers and their customers. They provide great specification information on each product line, like the aluminum color options, screen options, sizing, and more. The included features and additional options are listed as well as a nice side profile of the housing, pull bar, and rail. View the online version for each below.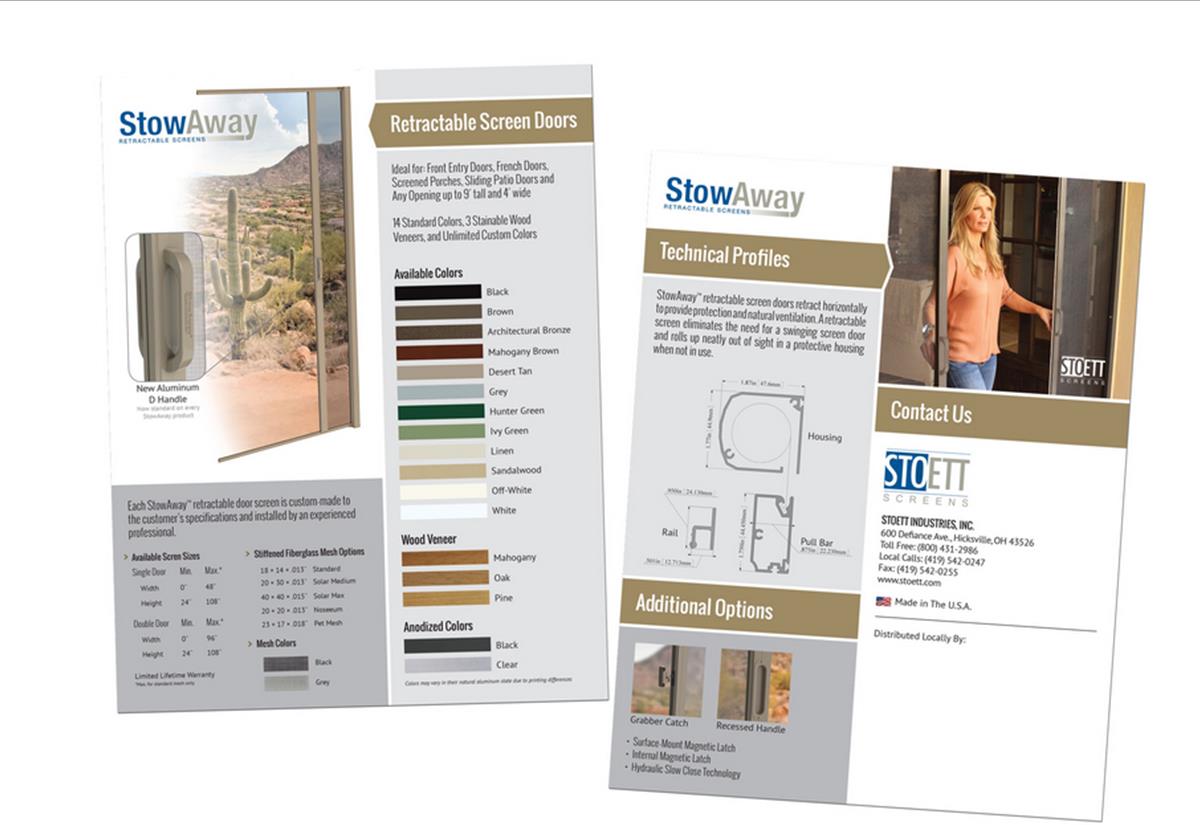 StowAway™ for Doors
StowAway™ sounds exactly like it reads. It stows-away neatly in your doorway when not in use. This tough door just got tougher with its totally solid Aluminum D Handle, featured on the new sheet. This product is ideal for front entry doors, French doors, screened porches, sliding patio doors, and any opening up to 9′ tall and 4′ wide.
Click to download the StowAway™ sheet
PanoramaLite™ for Wide Horizontal Openings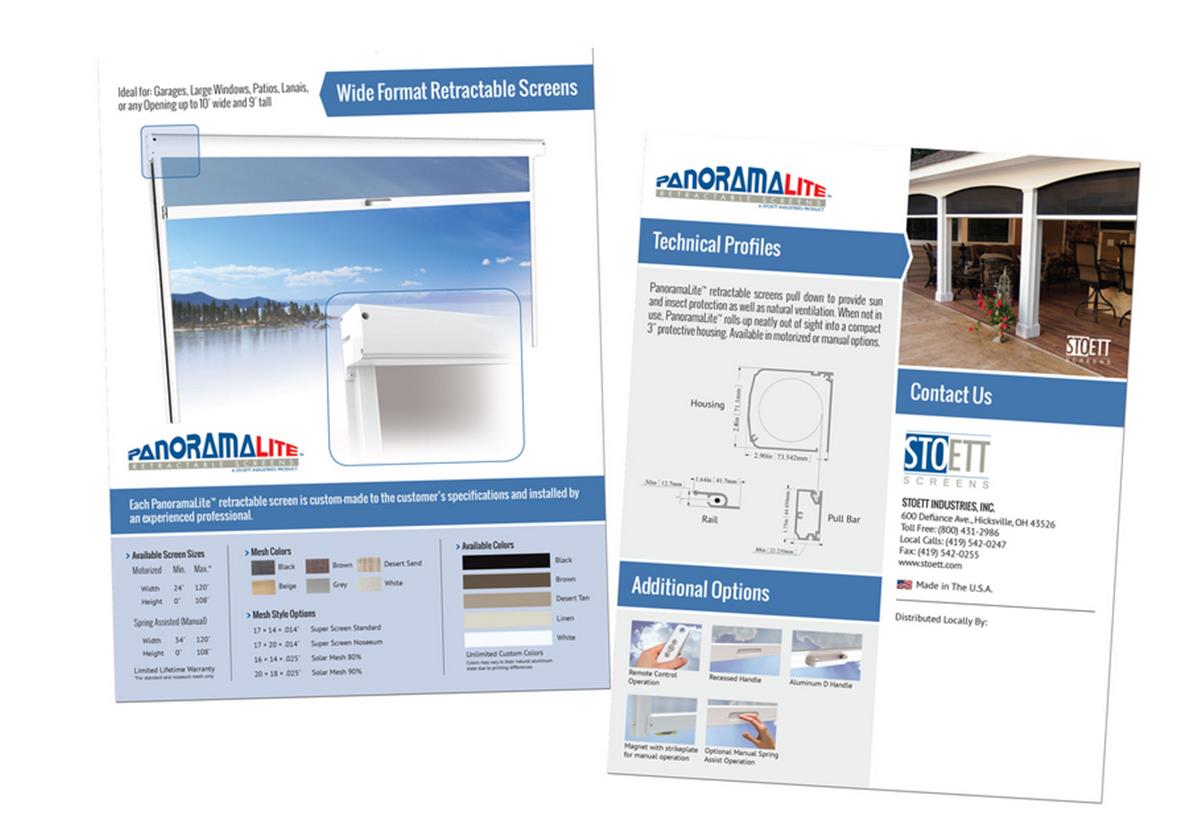 This is the little screen that could. So compact, yet so wide-reaching. This economical, compact version of its big brother, Panorama™, is a sure bet if your dimensions are under 10′ wide and 9′ tall. This product is ideal for single garages, large windows, patios and lanais. But, truly, there are so many more spaces people have utilized these screens, even for golf cart garages.
Click to download the PanoramaLite™ sheet
Panorama™ for Extra Wide Horizontal Openings
Panorama is a wide screen for a monster opening on your deck, patio, porch, outdoor kitchen, balcony, or any opening up to 24′ wide and 13′ tall. This screen can be manual spring-assisted or motorized. For your large opening with a screen need, Panorama™ just may be able to accommodate.
Click to download the Panorama™ sheet
Panorama™ Clear Vinyl for Extra Wide Openings (without the breeze)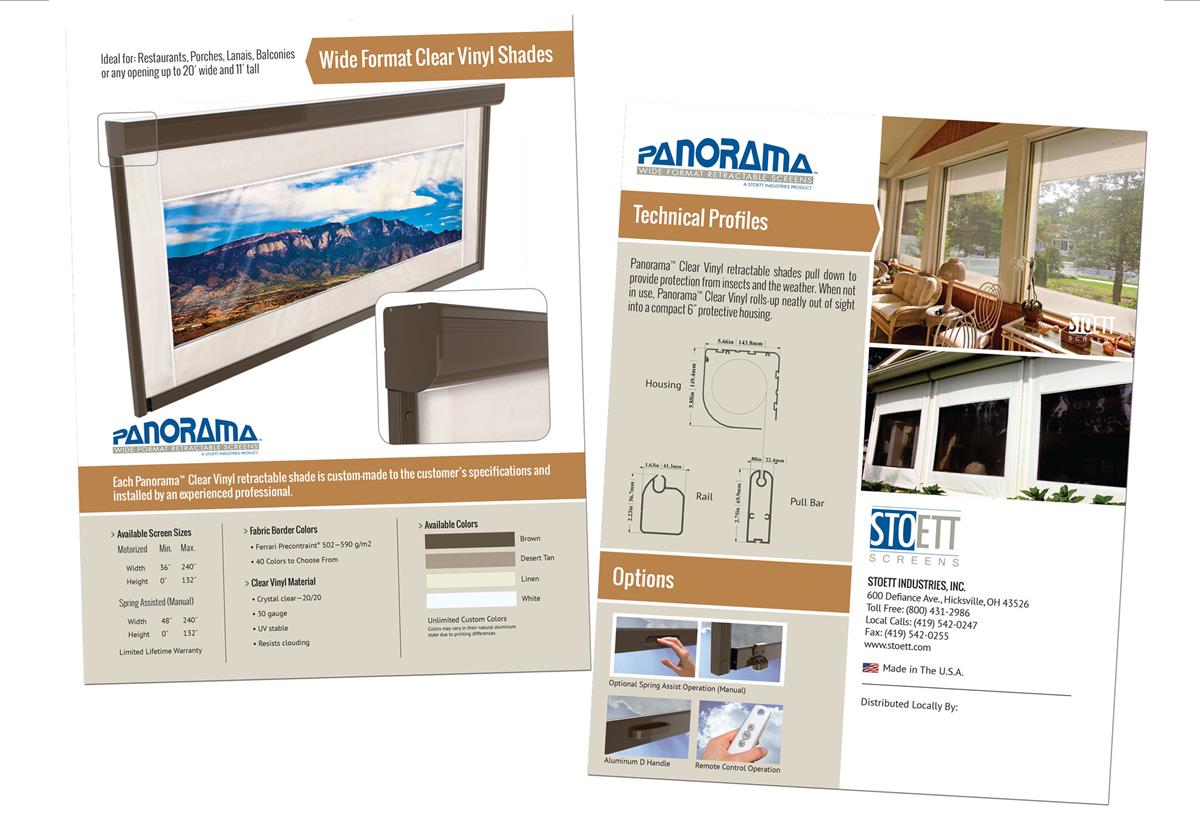 This lovely new addition is sure to bring satisfaction to the client wanting an open view with wind protection. Clear vinyl deployed equals wind protection along with bug and pollen protection. Oh, and they maintain heat well in the colder months when the shades are deployed to still create that usable porch or patio space. Pick your surrounding border of fabric material to match your porch.
See the featured story on this Rehoboth Beach, Delaware porch
Click to download the Panorama™ Clear Vinyl Sheet
Enjoy!