This back patio room overlooking the placid pool was the perfect place to relax in the evenings away from the bugs without compromising breeze, sounds, or view. This homeowner wanted to utilize that room and blur indoor/outdoor environments with screens. The room has three sets of French doorways and this homeowner had the option of two StowAway™ door screens to retract on each side of the French doorway or she could choose a horizontally retracting screen, rolling from above the doorway down to the floor. If two StowAway™ door screens were chosen for each set of French doors, two screens would meet in the center of the doorway. While retractable door screens do not require a frame, they do have a pull bar that guides the screen out of the housing which would be in the center of her view if she chose that option.
Since she only needed one set of doors (out of the three) to accommodate traffic and grandchildren rushing out to the pool and backyard, she thought it would be nice to have the other two doorways unhindered with the PanoramaLite™screen rolling from the top down. The PanoramaLite™ houses the screen above the two doors and rolls right down the installed tracks, resting on the floor below- just one screen covering for each set of French doors. This works perfectly for her outdoor living space, giving both full view for evening lounging and functional doors for daytime traffic.
Linen, a standard Stoett color was chosen to match her woodwork on the inside of the back patio room. The housings for the PanoramaLite™ measure less than 3" and fit perfectly right about her doorway; the local dealer, Working Space, measured above the doors before ordering, and then Stoett built the screen to perfectly fit the door width. Expert dealers like Working Space make these retractable screen projects a success with their expertise to seamlessly blend screens into home spaces.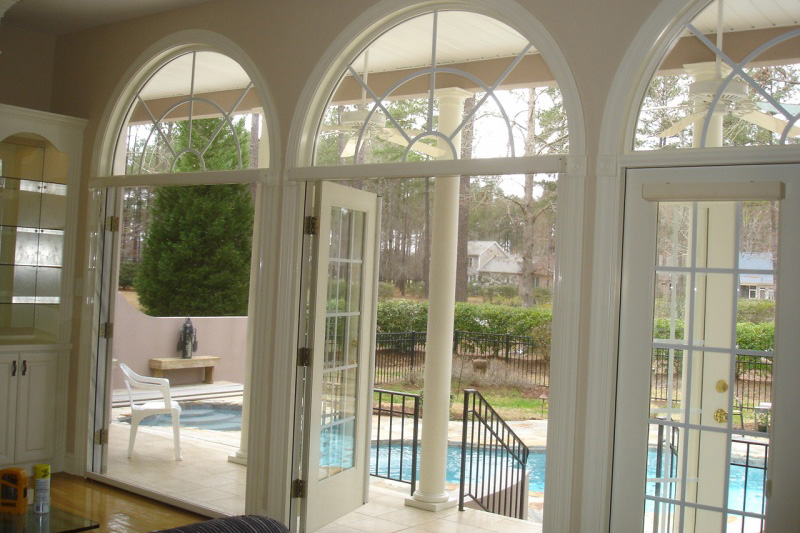 You will note in the photo of the three doorways, the screens are down but are very hard to see!
Working Space is a certified Stoett Dealer in New Bern, North Carolina
www.myworkingspace.com