Patio Shading Options: Screens, Blinds, Shades, and Awnings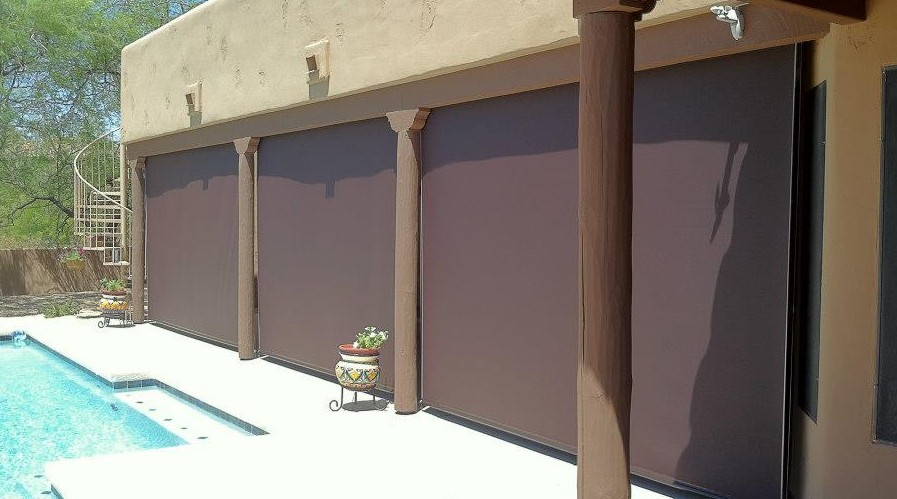 So, what are all the competing options for patio shading? There is quite a few. But, let's define what type of opening we are looking to cover. A patio opening, by my definition, is an opening on the exterior of a home with columns, pillars, or the actual building itself on either side of the opening (which the screening option can be mounted to). The opening usually calls for a horizontally mounted product, in order for the screen to roll up and down vertically. This, however, is not the case in every situation. There are vertically mounted products that can give a patio the touch it needs for shading and insect protection, like Centor.
Slatted Blinds
There is a wide variety of options for decking out and shading your patio. One, I recently discovered in an apartment complex where people have just this little precious balcony space. These slatted blinds, usually made of a type of wood, have small gaps between each piece of wood to allow it to roll up when not in use. These blinds, from my experience, don't have much UV protection for the product itself to last long with the sun beating on it. Not to mention, the slats in the wood allow for insects in the patio area, making their most useful quality just privacy. The roller shades are very similar, but I have found they are made of a woven fabric with UV protectant properties, likely making them last longer than the blinds. The roller shades do not claim to keep insects out, but the material seems to seal more than the slatted shades. They roll up and down on themselves, not inside a type of housing. Between these two products, if you are mostly looking for privacy and shading, the roller shades boast of more benefits.
Drop Shades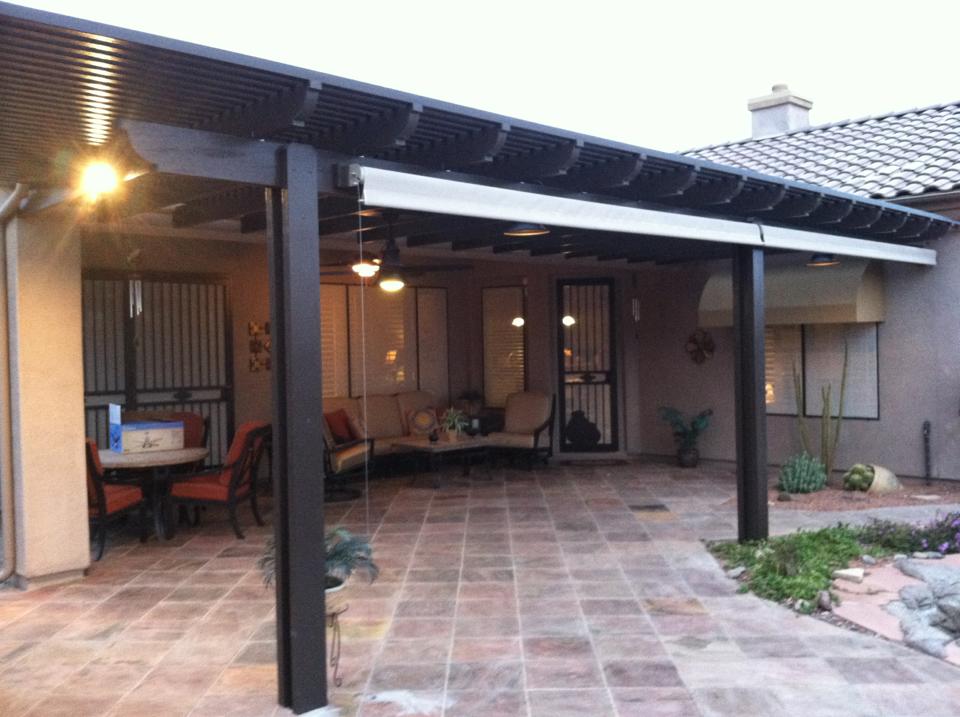 Drop shades are used for reducing heat entrance into an area. These are also helpful for privacy to a back yard outdoor living space. They are sturdier than the roller shades I spoke of, as they employ actual screen mesh material, not the fabric material. Drop shades are like retractable screens, only without the side rails, so they don't protect from bugs. They are moved with a cord up and down, just like indoor blinds. One drawback to these is their lack of protection for the screen when not in use, as they do not have a housing that they draw back in to.
Fixed Screens
Fixed screens were popular for gazebos and patio areas (in the 1980's!). Those work okay, but only for a limited time, as the weather warps them with constant beating on the screen fibers. That is certainly an advantage of retractable screens over fixed: retractable screens can be full retracted out of the way when not in use and during the off-season, extending the life of the screen exponentially.
Awnings
Let's move on to awnings.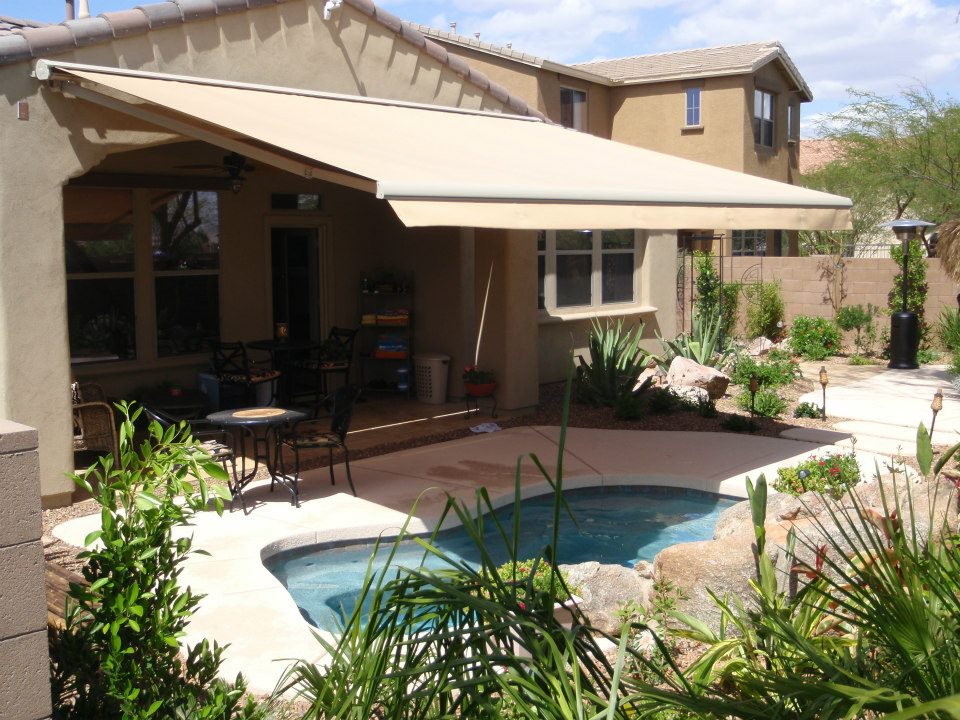 They are often a steeper cost than the mentioned protection options. Their awning fabric is classy stuff and the structure itself is more involved than a drop shade or retractable screen. They are often easy on the eyes, providing a complementing color to the exterior of the building, often bolder colors than screen fabric choices. Awnings don't provide a sealed off area, a clear view, or wind protection. They block out major sun rays and look pretty, in a nutshell.
Retractable Screens
Lastly, retractable screens… let's first define this category: Retractable Screens- screen mesh housed in a protective aluminum housing that roll in and out of [the housing] with mounted side rails that hold the screen in and guide it during the movement.
Retractable screens can be motorized or manual, but they do not just hang or drop. They are taut and sealed off. They boast of these qualities: solar shading, privacy, bug protection, and wind reduction (with solar mesh). Of course, another benefit to them is the fact that they are stored in a protective case when not in use. So, there you have it. Those are the options for your outdoor space and patio area if you want to ward off extreme sun and pesky bugs.
As with all things, certain settings require certain patio shading and screening needs. I hope I have alleviated some of those questions during your initial stage of searching for the right product. May you have the best outdoor living space ready for summer fun after you've selected your final product!
These images of awnings and drop shades were installations by Alexander Custom Screens, our wonderful Distributor in Arizona. Check out his local website