Outdoor kitchens are one of the best ways to live outside and celebrate summer. Whether its Friday evenings with friends or holidays spent by the grill, there aren't too many people looking for excuses to be outside. And cooking outdoors is no exception. Who doesn't like a kitchen near the gazebo or pool? It just makes summertime that much more enjoyable. 
There are drawbacks to cooking outside, like the dreaded bugs and debris. But Stoett's screens  solve this pesky problem by keeping the bugs out when you've got the food bar set up. The screens are discreet, meant for deploying when needed and retracting back when they aren't. 
Stoett is staying on top of the latest in Indoor/Outdoor living trends. Outdoor kitchens is certainly one of them. The booklet breaks down the top 10 design tips from Better Homes and Gardens to plan your outdoor kitchen and shows you how Stoett screens can make a good idea a great idea.
 Fill out the form below to get a download of this Outdoor Kitchen Booklet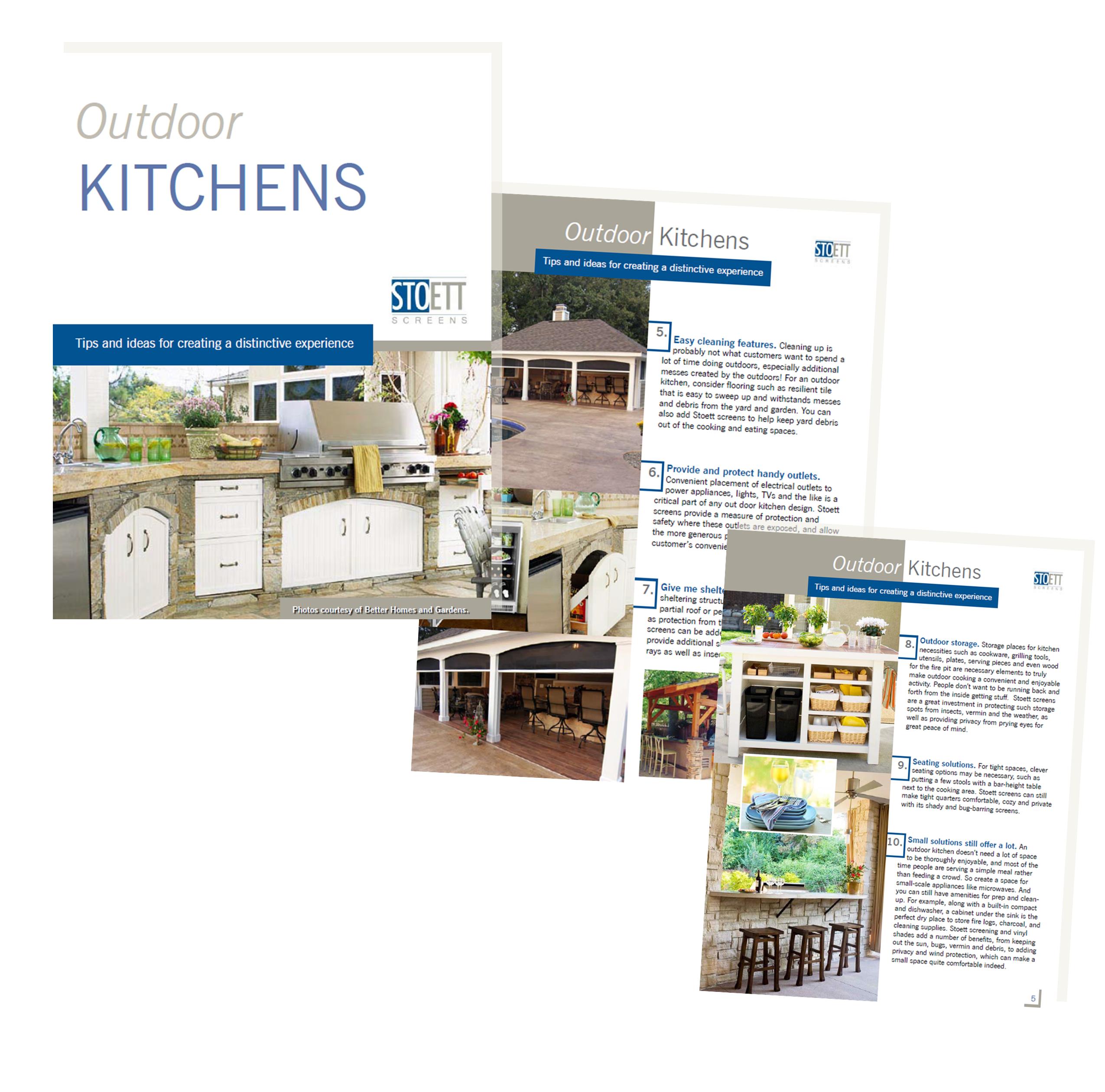 Included in the booklet:
Outdoor Kitchens
Tips and ideas for creating a distinctive experience as stated by Better Homes and Gardens 
With disposable income rising and the economy steadily improving, the market is primed for a surge in products that make such outdoor spaces easy and comfortable to use. In this regard, we expect the trend in outdoor kitchens to continue. And with Stoett screens and enclosures you can add a distinctive element that provides protection, comfort and privacy in a way that further enhances the outdoor experience.
Looking for ideas about what you can do with outdoor kitchen design and Stoett screens? Here are ten tips to provoke your thinking.
1. Stand up to the weather. Materials need to be durable when it comes to the different weather conditions. Stainless steel, stone, slate, tile and stucco are some of the choices to think about. The countertops and hardware should also be designed for exterior use. If building on a deck, make sure the structure can support what is going on it. Stoett screens and pull-down vinyl flaps weigh little but provide a lot of additional protection of this investment from the weather and UV rays.
2. It takes a plan. Outdoor kitchen design is a similar process to indoor design. You need to think about all the elements that will make it work for the customer. That includes everything from choosing the right grill and countertop, to storage and organizational necessities like pullout trash and recycling bins, to baskets for napkins, glasses, cleaning supplies, etc. This is also where Stoett's custom capabilities can create outdoor enclosures that perfectly complement the design you create.
3. Good food all around. Cooking outdoors keeps people close to the natural elements and is a great place to keep homegrown vegetables and herbs and other ingredients handy. But people don't want bugs crawling on them or vermin getting at them. Stoett screens help keep out such pests and protects food and ingredients from contamination.
4. Think about light and air. Light and air flow are key elements for maximizing the hours spent in an outdoor kitchen. Overhead lights and fans can help make the most of cooking and eating spaces. This is where Stoett screens can really help by keeping the bugs away from your lighting on summer nights while allowing plenty of cooling air flow.
5. Easy cleaning features. Cleaning up is probably not what customers want to spend a lot of time doing outdoors, especially additional messes created by the outdoors! For an outdoor kitchen, consider flooring such as resilient tile that is easy to sweep up and withstands messes and debris from the yard and garden. You can also add Stoett enclosures to help keep yard debris out of the cooking and eating spaces. 
6. Provide and protect handy outlets. Convenient placement of electrical outlets to power appliances, lights, TVs and the like is a critical part of any out door kitchen design. Stoett enclosures provide a measure of protection and safety where these outlets are exposed, and allow the more generous placement of outlets for your customer's convenience.
7. Give me shelter. Different kinds of sheltering structures including a full roof, partial roof or pergola can add style as well as protection from the weather. Custom Stoett enclosures can be added to such structures to provide additional shade and protection from UV rays as well as insects, animals and debris.
8. Outdoor storage. Storage places for kitchen necessities such as cookware, grilling tools, utensils, plates, serving pieces and even wood for the fire pit are necessary elements to truly make outdoor cooking a convenient and enjoyable activity. People don't want to be running back and forth from the inside getting stuff.  Stoett screens and enclosures are a great investment in protecting such storage spots from insects, vermin and the weather, as well as providing privacy from prying eyes for great peace of mind.
9. Seating solutions. For tight spaces, clever seating options may be necessary, such as putting a few stools with a bar-height table next to the cooking area. Stoett enclosures can still make tight quarters comfortable, cozy and private with its shady and bug-barring screens.
10. Small solutions still offer a lot. An outdoor kitchen doesn't need a lot of space to be thoroughly enjoyable, and most of the time people are serving a simple meal rather than feeding a crowd. So create a space for small-scale appliances like microwaves. And you can still have amenities for prep and clean-up. For example, along with a built-in compact and dishwasher, a cabinet under the sink is the perfect dry place to store fire logs, charcoal, and cleaning supplies. Stoett screening and vinyl wraps add a number of benefits, from keeping out the sun, bugs, vermin and debris, to adding privacy and wind protection, which can make a small space quite comfortable indeed.