How different would your daily morning grind be if you could open up the wall and suddenly be enjoying your cuppa outside with the early birds and fresh dewy air?  How much more time would your family spend in the family recreation room if it could be converted into and indoor/outdoor recreation area with just the touch of a button?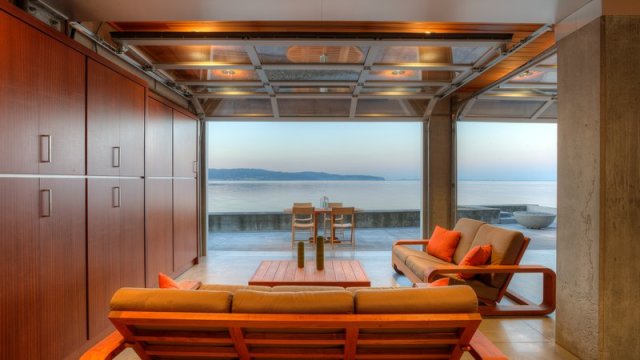 Blending indoor and outdoor living space has become kind of a big deal, according to AIA's Chief Economist, Kermit Baker.  Because of their functionality, versatility, and availability in almost any style and material a person could dream up, garage doors are climbing their way to the top of the trend ladder, and are quickly being incorporated into living rooms, kitchens, family recreation spaces, and more.  The trend is becoming a hit not just in private residences, but also in restaurants and eateries.  The Sienna Mercato in Pittsburgh, a three-story eatery that offers three different dining options under one roof, successfully incorporated garage doors into their second floor restaurant as well as the first for the simple enjoyment of open-air dining
So if opening up your space is the answer to so many questions, what's left to consider?  For those in mild climates, insects and other pests could put the brakes on the whole idea.  Thankfully, there's a simple quality solution.
The Panorama™ and PanoramaLite™ retractable screens are custom made to fit  garage door openings up to 24 feet wide and 13 feet tall.  These screens anchor into a track and bottom rail so pests are sealed out.  The screen rolls up into a slim, barely there housing that mounts on the outside of the door opening, and the track and housing can be custom colored to match in with their surroundings.  Different screen options serve different needs with screen color options, mesh size, and even puncture/tear resistance for high-traffic areas.  For added convenience, the Panorama™ and PanoramaLite™ can be automated to open and close at the touch of a button.
So again, the question is asked: How different would your daily grind be if you could transition from indoor to outdoor with a simple touch of a button?  Isn't it about time to find out?
See this Belize beach house getting Stoett Screens this year
 Images from www.houzz.com